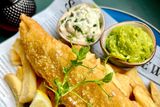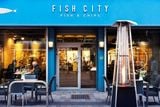 Kurtis ReidBelfast Telegraph
Two Northern Ireland chip shops have been featured on a list awarding the best fish and chips in the UK.
'The Friary' in Carrickfergus landed in the top 50 best takeaways while 'Fish City' in Belfast took a top 10 spot in best restaurants in a list compiled by leading food publication Fry Magazine.
According to the magazine, shops can achieve 100% if they "score top marks on every section of the mystery dine" but had to achieve at least 95% or over for takeaways to win an award and 92% or over for restaurants.
The awards are now in their 11th year, and come as Fish City continue to dominate both national and regional awards for their grub.
Earlier this month, the city centre restaurant won 'Restaurant of the Year' at the National Fish and Chip Awards 2023 beating UK-wide eateries to take the top prize.
It also won the Environment and Sustainability Champion' award and was the only restaurant nominated across all categories.
Reece Head, competition organiser with Fry Magazine said "Once again we've had another year where it's simply got harder to operate a fish and chip business, with rising energy, labour and ingredient costs taking a heavy toll.
"It's not easy but operators are working harder and smarter, staying ahead of changing tastes and behaviours and adapting accordingly.
"Our awards are a testament to the hard work, dedication and commitment these operators put into running successful businesses."
He added those who made the publication's list "represent the best in the industry" and "are pushing forwards while not losing sight of what makes the chippy so engrained in British culture."