Ocala Breeders' Sales has released the catalog for its Spring Sale of 2-Year-Olds in Training, which will include a total of 1,221 juveniles entered for the four-day sale set for April 25-28. All sessions will begin at 10:30 a.m. ET.
Top graduates from this sale include graded/group 1 winners And Tell Me Nolies , Colonel Liam  , Country Grammer , and Emblem Road  along with graded stakes winners Arabian Knight  and Havnameltdown .
Peter Redekop B. C.'s And Tell Me Nolies won the Del Mar Debutante (G1) and the Chandelier Stakes (G2) at Santa Anita Park after the daughter of Arrogate was sold by Off the Hook as agent in 2022 for $230,000.
And Tell Me Nolies wins the 2022 Chandelier Stakes at Santa Anita Park
Robert and Lawana Low's Colonel Liam, was a three-time grade 1 stakes winner, including consecutive renewals of Gulfstream Park's Pegasus World Cup Turf Invitational Stakes (G1). The son of Liam's Map  , trained by Todd Pletcher, retired to stud with four graded stakes wins, a 12-7-0-1 career record and $1,812,565 in earnings. He sold at OBS in 2019 for $1.2 million out of Ciaran Dunne's Wavertree Stables consignment.
Country Grammer is a four-time graded stakes winner, with victories in the Dubai World Cup (G1) and Hollywood Gold Cup (G1). He was also second in the recent Saudi Cup (G1). The 6-year-old son of Tonalist   was purchased for $450,000 by Bradley Thoroughbreds as agent, out of Wavertree's consignment in 2019.
Prince Saud Bin Salman Abdulaziz's Emblem Road captured the 2022 Saudi Cup (G1) and was third in the 2023 Dubai World Cup (G1). The son of Quality Road   was consigned to the 2020 OBS Spring Sale by Wavertree as agent, and purchased for $80,000 by agent Bruno DeBerdt.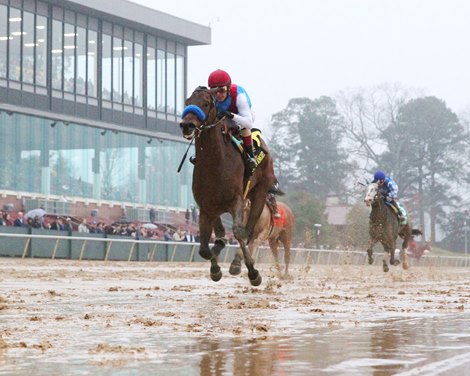 Arabian Knight romps in the Southwest Stakes at Oaklawn Park
Zedan Racing Stables Arabian Knight is two for two and a graded stakes winner after taking the Southwest Stakes (G3) at Oaklawn Park in January and is being pointed to a summer campaign. The 3-year-old colt by Uncle Mo  , trained Bob Baffert, has earned $544,275 to date. At the 2022 OBS Spring sale, he was purchased for a sale-topping $2.3 million by Gary Young, on behalf of Zedan Racing, out of the Top Line Sales consignment.
Michael Pegram, Karl Watson, and Paul Weitman's Havnameltdown is a three-time graded stakes winner, scoring in the Best Pal Stakes (G3), San Vicente Stakes (G2), and Bob Hope Stakes (G3). The two-time OBS graduate by Uncaptured  was sold first by Beth Bayer as agent, at the 2021 October Yearling Sale and then purchased for $200,000 out of the Blas Perez Stables consignment at the 2022 Spring Sale.
The sale schedule is as follows:
Hip No 1 – 306 will sell Tuesday, April 25

Hip No. 307 – 612 will be sold Wednesday, April 26

Hip No. 613 – 918 will sell Thursday, April 27

Hip No. 919 – 1222 will be sold Friday, April 28
The under tack show will be divided into seven sessions, set for Sunday through Saturday, April 16-22, all sessions to begin at 8 a.m.
Sunday, April 16: Hip No. 1 – 175

Monday, April 17: Hip No. 176 – 350

Tuesday, April 18: Hip No. 351 – 525

Wednesday, April 19: Hip No. 526 – 700

Thursday, April 20: Hip No. 701 – 875

Friday, April 21: Hip No. 876 – 1050

Saturday, April 22: Hip No. 1051 – 1222
OBS will again offer Online Bidding during the Spring Sale. Buyers will be able to go to the OBS website and register to gain bidding approval, then access the OBS Bidding Screen with their credentials. For complete information on registration and online bidding please go to the OBS website: obs-online-bidding
The Spring Sale will be streamed live on the OBS website at obssales.com, YouTube, and the BloodHorse website.
The online catalog's main page contains a link to a sortable master index providing searchable pedigree and consignor information as well as access to pedigree updates occurring since the catalog was printed. Under Tack videos, walking videos, and conformation photos are also available.
The iPad version of the catalog can be accessed via the equineline Sales Catalog App. The App allows users to download and view the catalog, receive updates and results, record notes, and also provides innovative search, sort and rating capability. For more information and downloads go to: equineline.com/SalesCatalogApp/
Current information about OBS sales, consignors and graduates is now also available via social media sites Facebook and Twitter. A link on the homepage directs users to either site.
Sales results will be available on the OBS website, updated during each session of the Spring Sale.
This press release has been edited for content and style by BloodHorse Staff.