With the cost of capital increasing, we need to make sure we've got capital available to sustain innovative activity within the economy, so this
investment is not just about 12 months – this is about many years down the track.
We see the reconstruction fund as providing an important layer of capital. We will team up with VC [venture capital], with one of the largest savings pools on the planet through our superannuation system, and with private equity as well. The big role the government plays is to send a signal about what's important for longer-term growth and the benefit for the country.
This is one of the largest investments in manufacturing capabilities in this country in living memory. It's a big nation building moment that we want to see through.
Paul Smith: How should it work and be distributed?
Ed Husic: Well, it will be through loans, guarantees and equity, managed by an independent board made up of people from investment industry circles … We want to make sure that it is there to support the growth, in particular in quantum technologies, AI and robotics, but there will be others that emerge.
James Cameron, Partner, AirTree Ventures: Capital, founders and talent are the three things that make start-ups work, and capital is such a big part of it.
When we started AirTree in 2014, there was about $200 million in venture money raised in this country, of which the first AirTree fund was pretty much half of it.
It was really a small amount, and that's gone 10 times to where we are today, but it's still a drop in the ocean in terms of what this market can legitimately support, and what it needs.
If you rank the OECD countries by venture invested as a per cent of any macro factor, like GDP or population, we're right down. We have a long, long way to go before we have the right level of capital in this market.
Pip Marlow, CEO Salesforce ANZ & ASEAN: It needs to be made sure that when we're investing in those VCs that we're thinking about diversity. I think the amount of VC funding that has gone to female founded organisations is trending in the wrong direction, and innovation can come from everywhere.
Rohit Antao, Partner, PwC Australia: I spent the last 16 years in Silicon Valley and one of my biggest observations was that you've got to create an ecosystem, and capital is one piece of the equation. You've also got the academic institutes that are actually investing in research, and also the private sector.
But there is this culture of innovation that you've got to foster in the country. You have to make people be comfortable with experimentation, and encourage courageous leadership to start taking chances, and going after these moonshot ideas.
Kate Pounder, CEO, Technology Council of Australia: The fund has actually become even more important than when it was first announced because we've seen this uncertainty in capital markets, and contraction in investments.
We're in a high inflation environment, and our productivity is at a 60-year low in Australia. Plus we have some big challenges from climate change and energy transition from here onwards.
Paul Smith: Are you optimistic that tech and innovation policy is moving in the right direction?
Richard White, founder and CEO, Wisetech Global: I have a mixed view. I am very optimistic about the technology industries in Australia, but my concern is that there is a fundamental bottleneck, if we're not yet addressing the [skills] supply side.
Enrolments in the broad field of technology in Australia has now arrived after 20 years at about the same level as it was in 2002, so we've actually gone backwards for 20 years in technology education.
Results from efforts to encourage female participants in technology are quite poor. The amount of participation that we're getting, particularly in the hard science areas, is actually quite poor.
If you look at the value creation in technology, for example the ASX technology index from 2016 to 2022, it's tripled in market value. We know that technology is growing, despite all of the current volatility … Technology is still has a massively higher value growth capability for the country.
Ed Husic: There are people out there who will roll their eyes whenever we mention diversity, and think it's a woke agenda, but it's actually a commercial agenda, because the numbers don't lie, and female-led companies do really, really well.
Paul Smith: I've been reporting on the tech space for over 20 years now, and people have been saying similar things for the whole of that time. It came up at the government's Jobs Summit too. So are we finally going to get it sorted?
Ed Husic: To be honest, no we haven't got it sorted, and I think as a government we should just be a lot more frank with people. This is hard work.
Kate Pounder: We can't be sitting here in 20 years, and
having the same conversation with the statistics. And I think the key things there are changing. So we came up with the target of having 1.2 million people in tech jobs by 2030, which is now national policy.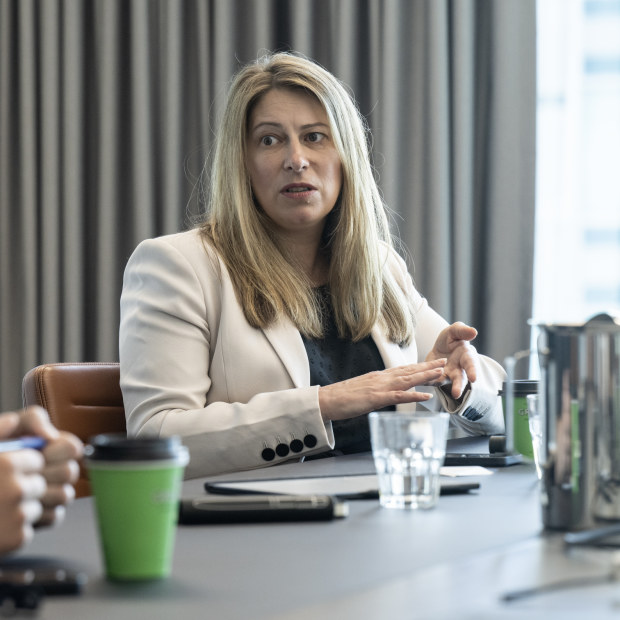 Fixing our migration system is also a key way to get some specialist talent in particular, but we just can't hit the target if only 23 per cent of people training in these fields are women.
Pip Marlow: This is not just a pipeline issue, either. If you look at the legal sector, 60 per cent of law graduates in this country are women, but when you look at the top of local firms it's certainly not 60 per cent.
This will cause more problems. For example, only 22 per cent of workers in AI today are female. So think about the potential impact of having bias built into the AI systems that are actually running our businesses, helping us run our governments, and our economy. We need diversity in there.
Paul Smith: There was optimism among tech types back when Malcolm Turnbull was pursuing an Innovation Agenda policy, but it fizzled out when people started fearing they would lose their jobs to technology automation. How can politicians and industry help get the country excited about innovation, without raising similar fears again?
Richard White: I was watching very closely when that rhetoric came out. And the problem is, we talked about disruption, and voters became very fearful because they took that as meaning that they were going to be disrupted.
My way of framing this is that unless we do these things, people are going
to lose their jobs. The jobs of the future won't be there, and the jobs of the past will be gone.
The real issue was that we frightened people instead of making them realise that they have to do new things.
Kate Pounder: I think it's bringing it back to the things that they care about. People care about having a good job; they want to believe the future for their kids will get easier, and not harder; they want to know that we'll have answers to things like climate change.
So I think it's bringing it back to how is technology helping people with the things they care about? And I think it's helping people see a place for themselves in that world now.
That's why I really care about the tech jobs job target. I grew up in country towns, and I think there's sometimes this impression that only people in Surry Hills can work in tech, and that's just not true.
Ed Husic: The experience of 2016 was a very frustrating time. I was particularly frustrated at the outcome of the election because when I saw the personnel changes the Coalition government was making, and the down shift, I knew what was coming.
We need to celebrate and back Australia knowhow from wherever it comes because we are problem solvers as a people; we have had to be, given our history and our location in the world.
We need to encourage people to think and apply that, from the factory floor to the lab bench to the boardroom – everyone can make a contribution. So we have to find a way so that people don't feel like innovation is a lab coat's job, or that it is some digital specialist's role.
Paul Smith: People talk a lot about COVID lockdowns as being the great driver of digital transformation in businesses. Has that momentum been lost as people have returned to offices?
Pip Marlow: I think what we saw through the pandemic was fantastic digitisation of the digital front door. So, for example, in retail, where a company didn't previously have
great e-commerce, or in financial services firms that didn't have ways for people to be able to work from home.
I remember speaking to a CIO of a very large top 10 Australian company, who said "We just did more in the last seven days than probably we did in the last seven years." And I think that represented a lot of companies.
The economic world has since changed dramatically. Cost of capital is different, and I have seen a shift in how companies are thinking about things.
They want to drive simplification, vendor consolidation and to drive costs out, so the digitisation conversation has become about helping companies to automate more.
They are happy with how the digital front door looks, but if you open up the door and look inside the house, the plumbing and the wiring's pretty
messy, with a lot of legacy systems glued together. So now they want help sorting that out to be a more contemporary or agile environment.
Rohit Antao: During COVID, the amount of investment that was being made in digital spiked up, but more often than not, if you look under the hood of a lot of those digital investments, they turned out to be IT projects to automate the old way of doing things.
These companies have now realised that they pumped a lot of funding in this, and there's still a long way to go, and some really fundamental
questions to answer.
Do we have the right business model to compete in this new world? Are we stretching our thinking in terms of the new markets we go after? Are we enabling a new way of working?
Paul Smith: Research and development spending in Australian business has been flagged as a problem in the past, even with tax incentives. How can this improve?
James Cameron: Business spending on R&D is a key driver for innovation in any country, and Australia has been pretty terrible. If you look at the average ASX 200 company, it only spends three per cent of its revenue on R&D, versus a bit over twice that for global averages for listed companies.
Ed Husic: They've got a lot of money for share buybacks, though.
James Cameron: The reality is that we have to shift that mix, and the good news is we've got blueprints to follow. Two of the top 10 companies that have ever come out of Australia didn't exist 20 years ago; Atlassian and Canva. In fact, Canva didn't exist 10 years ago.
So it's really a case of just replicating some of the conditions that enabled companies like this to come through, so we see more and more of them, and this will shift the business spend on R&D.
Ed Husic: A longer-term thing I'm worried about, in terms of pick-up and R&D is, if you look at the contribution of R&D to GDP within the OECD, we've got 1.8 per cent relative to GDP, and the OECD average is 3 per cent.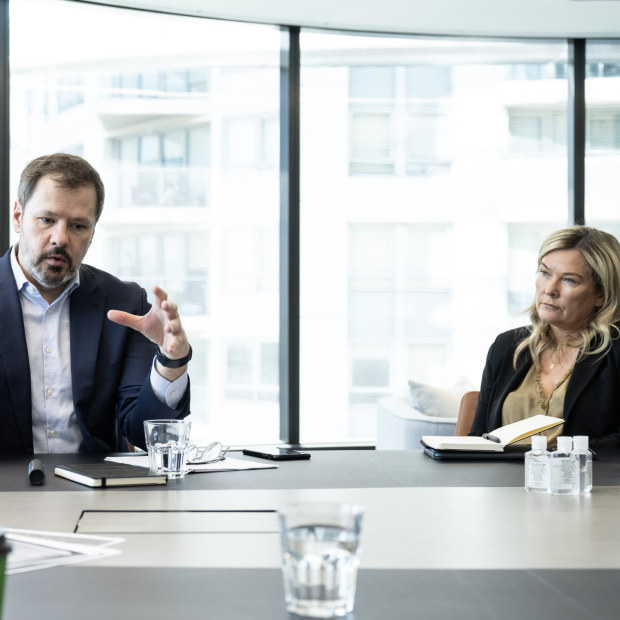 During the election campaign, a lot of people were saying "What's your policy on commercialisation?" and "Will you do a review?" Now there are 60 of these bloody things, and they're now doing a great job collecting dust.
I don't want industry to be pointing to unis or unis to be pointing to industry, we've all got a stake in fixing this up.
There are big businesses in this country, that deploy a lot of capital, which they say is not available for R&D. People are making choices, and we've got to get people making a choice about long-term growth.
And if they do have the capability to make a contribution, you've got a willing government that wants to work with people on it.
I don't want to mess with the RDTI (R&D Tax Incentive) at all, but if we do reform it or review it, it will be flagged in advance. We want to get the settings right, and I do want to take a longer-term view about reviewing what's required to lift R&D in this country.
But we do need some businesses to come to the table with a view that they do have the money, and are going to invest it in ways that are good for them, and good for the country.
Richard White: The RDTI has been watered down substantially over the last 15 years. It's nothing like as big as it was. As a motivational driver for investment, it is actually quite small.
I understand why it's been taken away from large companies that have tiny amounts of R&D compared to their overall spending, but claimed a big amount just because of [their] sheer size.
Any sort of R&D tax incentive needs to be targeted at real innovators, and to the tech sector, rather than to a big corporation that's got a tiny relative R&D spend. It is not real research and development.
Canva, Atlassian and WiseTech spend a hell of lot of money on R&D, and all three companies are massive exporters, which gets dollars into Australia.
The return on investment of R&D for WiseTech, or Canva, or Atlassian and a number of others, massively creates an export economy for Australia. Massive.
Ed Husic: To be frank with you all, I'm happy for big companies to use RDTI, but not use it for business as usual activity. That was what really stuffed us before, related to software development, and we can't have that behaviour in the system.
On Richard's point, there's about 2 per cent of the firms that are doing the bulk of the heavy lifting when it comes to R&D, and we need to have that spread.
Kate Pounder: I think business investment is one of the biggest opportunities, but also the most necessary reform, for the budget and for the next couple of years ahead.
We have this inflationary environment, but also this growing risk of recession, and if we are going to chart this increasingly narrow path out of one era, and into the next, and try to do that without seeing unemployment go up too high, without getting a handle on cost of living, with wages going up – all of those things depend on productivity.
That is the only way to try and thread that needle.
The thing that will make the biggest difference to productivity is business investment. If we get consumer demand coming down with higher interest rates, and government spending has to come down, then we need that business investment to go up.
So I think it's really vital, and I'd be really curious to see what comes out of the federal budget on that front.
Ed Husic: I'm going through the ERC (Expenditure Review Committee) process at the moment.
Kate Pounder: You're going through the ERC, but you can point to the UK budget, which was handed down two days ago, and its whole premise was around spurring this kind of growth and investment, and investment in new industries.
So I think it is the answer to the biggest economic challenges we're facing. If you look over the last 150 years, there's no time period where economies have come out of the kind of shocks we've had, and ended up over the next
decade in a better place in terms of standard of living, or wages or GDP, without it fundamentally being driven by some kind of innovation and technology-driven improvement.
So that's why I think it is so particularly critical at this time, and we know in Australia that our business investment in tech is actually lower, again relative to the past. Not even just R&D, but just general levels of investment is still lower than most other nations. So I think that's really key.
Paul Smith: Is it getting any easier for smaller and start-up companies to win business with large corporations? Because that has been a problem in the past.
James Cameron: Yes and no. The US traditionally always had an advantage in the sense that scaling a start-up over there was easier because you had access to a customer base that would spend more on your door step. I think that has changed a lot.
Canva and others have developed a model of creating technology that is built here, and sold to the world.
Australia is the most capital efficient producer of unicorns anywhere in the world. It's not even close. For every billion dollars of money that pumps into the Australian VC ecosystem, we produce 2.1 unicorns. The next closest is Israel at about 1.6, and then Brazil, weirdly.
And a big part of that is because companies like Richard's [Wisetech] and others in Australia have been able to build here, use local talent, and then
sell to the world, and they have had to get very good at selling efficiently, to customers that are miles and miles away.
Then the idea of local companies being scared to buy from local tech firms is neutralised when they sell overseas first, and then come back. It's the pop star effect – the Kylie Minogue thing – where you get popular overseas and suddenly people back in Australia get excited.
Pip Marlow: In our world or in Microsoft world, we have app exchange partners, as it gives big companies a little bit more comfort to deal with a smaller company, when they know that it's built to click into a Salesforce type product.
A platform can give a bit more security for a big bank or a big retailer to say "OK, you're a certified product", so those platform and ecosystem players help smaller organisations to get some scale and engagement.
Paul Smith: The talk of skills shortages jars a little in a market where we keep hearing about technology companies sacking staff, how do you explain the apparent contradiction?
James Cameron: We live in a world where the cost of capital has changed pretty significantly in the last 18 months. So the companies that, four years ago, were winning in terms of the market sentiment by using external capital to grow very fast, have now felt the other side of that market change.
So we're in a world now, where companies are having to rethink their cash overall. And the ones that moved most quickly on this, and were the most agile on this, were showing good management.
I don't think it changes the long-term outlook. Our investors don't partner with us because they think that we can pick the top or the bottom of the market – they invest in us because they think we can invest in companies that are building on decades-long changes in technology.
Pip Marlow: The change in cost of capital means that in businesses, their appetite to do more, or do faster, to take more risks and try new things, has constraints. Just the cost of the failure or loss is higher, they're making bigger trade-offs.
What the shareholders are looking for now is a little bit different from what they looked for 12 months ago, so companies are changing. Now, what's happening concurrent to that is, for most companies, customer expectations aren't dropping.
We're in a similar situation as we reshaped. We had a massive amount of hiring over a period of time, especially through the pandemic, but also there's still a massive skill shortage.
Things like enterprise architecture skills – so someone who actually helps these companies design the business of the future – we can't find enough of them. AI skills also, especially now with generative AI.
AI is going to create new jobs. If you ask ChatGPT to create a website for you, it will, but it will be pretty basic and not very beautiful from a customer experience, but then the human will build and evolve and make it better.
So some of the skills that were in a shortage will be less so, but the skills to engage around technology like generative AI are still in high demand.
Paul Smith: How have you handled the need to lay-off staff at Salesforce after such a lengthy period of growth in the industry?
Pip Marlow: They are really tough business decisions, they're lives. So what's important to me, and I think the company I work for, is when we make a decision, we execute it with our values.
You have to treat people with respect, and take care of them through the process, and that has been job number one for me.
The second thing is the balance you have to strike, because you want to take a moment to honour and thank people who have contributed to your organisation, but you also have to motivate and help people who are staying to move forward.
So I have had to try to hold on to both of those things at the same time.
Kate Pounder: One reason for the incongruous idea of redundancies in tech companies during a skills shortage is that 60 per cent of tech jobs don't sit in tech companies in Australia.
In fact, I think it's still [Commonwealth Bank CEO] Matt Comyn that is probably the biggest employer of software engineers in the country, and those industries have not been going through the same cyclical effects as the direct tech sector.
So the latest ABS data, which was current up to November 2022, showed a 9 per cent increase in tech jobs, which are now above 900,000 in Australia.
So just this one story that we read does not always represent the overall trend. If you look back over 10 years, the rate of jobs growth and tech jobs has been double the average rate of growth over that period for the average job in the economy.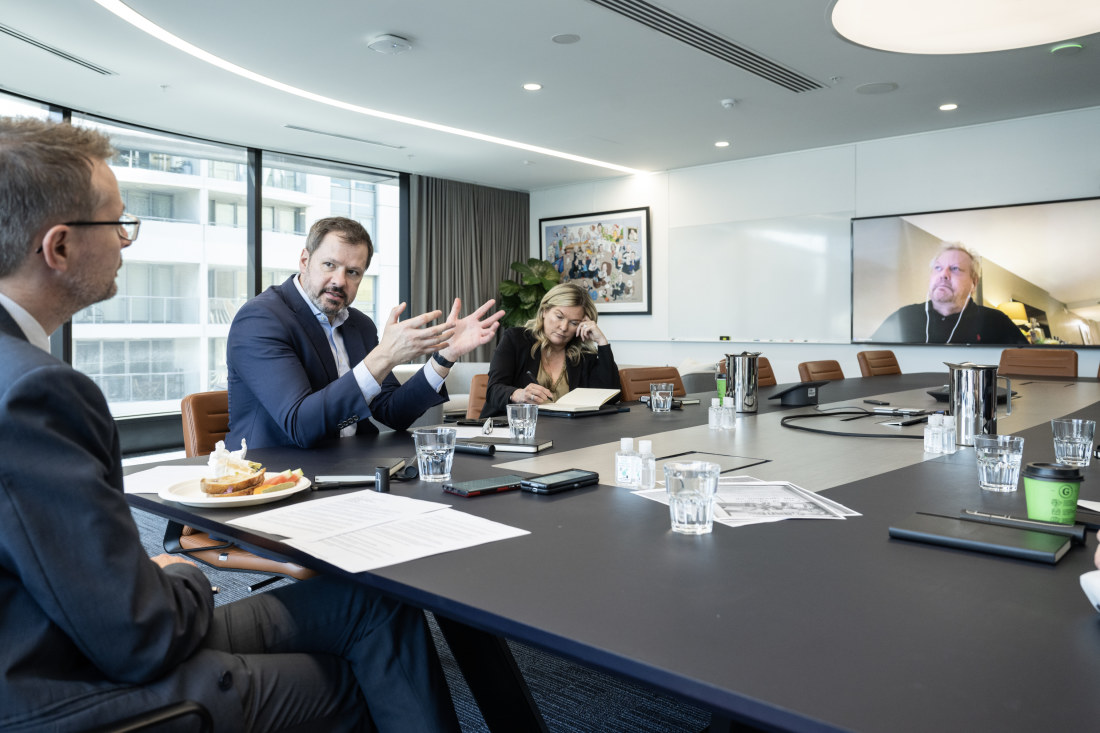 The lesson from that is that we cannot take our foot off the accelerator in terms of these training reforms, or in terms of encouraging people to move into these careers. We've already got this huge built up skills shortage, which even some sort of cyclical change is not going to just immediately erase.
Paul Smith: One issue I wanted to raise with you Ed, is the gig economy and its regulation. What is the government's plan as it stands?
Ed Husic: You need to look at what's driving our interest in that area, and that is that a lot of the people are deep believers that the type of work that can be created by technology, can be sustaining, is secure long-term work.
We have to show that the sum of technology, and particularly as it relates to automation, cannot mean a dilution, or watering down of the quality of jobs.
We don't want people to eke out an existence by stringing together multiple part-time jobs.
Just as with the introduction of automation, it may have a clear benefit for our business efficiency, but it does have a workforce impact. And if it's not taken into account in the design phase, before you bring that technology into a company, or that approach to automation, it has an impact.
Gig economy employment is a continuation of an atomisation of labour markets that started in the '90s and it's sharpened to this point on gig economy issues. I think it's something that governments, in particular the people we represent in the community, want us to focus on.
Paul Smith: What problem would you like to solve with a click of your fingers this year?
Richard White: I would like to make it clear for parents and grandparents, people in society generally, school guidance counsellors, teachers, the faculties, about the value of a career in technology.
I think one of the problems we've got is, we think of doctors and lawyers and accountants as being stable careers, but not tech. The noise around tech layoffs makes it seem like the dotcom crash, or when the GFC happened.
In fact none of that's true, there is very little evidence of a talented technologist losing their career. They may lose that job, but they quickly go to another job.
Kate Pounder: I would click my fingers and do tax reforms. Because I think very often when we look at what has unlocked that investment and that growth over time, it's when we have made transformative tax reforms.
There are a whole bunch of smaller ones, whether it's still RDTI, or investment allowances, and then there's probably some macro tax reform
above it.
But it's this area that constantly divides our country. We spend so much time debating very minor changes that it holds up a lot of important reform, and investment and productivity improvements. I think if we spend more time inspiring people and less time debating the money you share in tax reform, we would probably be in a better place.
Rohit Antao: The stat of 60 per cent of the tech workforce being employed outside the tech sector reminded me of that old adage that, no matter what business you're in, you're a tech business.
I think that's the reality of the industry we're moving into right now. So with that as a backdrop, I'd love to see boardrooms and C-suites around the country improve their level of digital acumen.
I want to see the tone set from the top, so I'd click my fingers and create leadership to inspire this new workforce that is slowly increasing in percentage of these organisations.