David Beckham, Harry Styles and Guy Ritchie have all been known to acquaint themselves with Barry's iconic Red Room. Sweating under the ruby-hued lights, it's not just celebrities who have been drawn to the simple but effective workout. George Osbourne, previously Chancellor of the Exchequer, and members of the Royal Family have also been spotted repping a few bicep curls at one of Barry's seven London studios. 
It's a unique proposition, certainly, but if the prospect of ending up on a treadmill next to Harry Styles is what it takes to get you to the gym, you'll want to book a 9.30am class at Barry's Central studio. So, does the celebrity clientele phase the instructors? "We've had most of the biggest A-listers come into the studio and no one really notices," says Sandy Macaskill, co-founder of Barry's London. "During one 9.30am, we had Ellie Goulding, [David] Beckham, Guy Ritchie and Jules Oliver all in one class at the same time. They used to come every day. 
"David Beckham is on another level, but even he managed to keep anonymous. I never actually asked him why he came. He's got his own gym but I think it's about working out with other people and being anonymous at the same time. Within the first month or two of opening, we had Princess Beatrice come to a class. At the end of the day, they are just like everybody else."
But surely it takes more than just an average HIIT class to lure out the A-list? The brainchild of Barry Jay, who pioneered the simple workout in an old LA gym in 1998, the fitness concept remains practically unchanged in the 24 years it's been running — and the 10 years it's been in London. "At its most basic, [the workout] is incredibly simple and we don't overcomplicate things," says Macaskill. "At Barry's, Monday around the world is arms and abs — you know you're going to run for half of it and lift weights for half of it. You know exactly what it is so it shouldn't be intimidating." 
In an ever-changing fitness industry and one that has become quite crowded — as Mackaskill says "throw a stone in London [now] and you'll hit a boutique studio" — it's impressive Barry's has never felt the need to change the simple premise on which the brand was built. 
"We've never felt pressure to change it and I think that dials back to its heritage," explains Macaskill. "[Barry] started taking over these classes where he wanted to incorporate running and weights. He would be standing in the middle of the gym and have half the class at the free weight section and the other group on treadmills. One day, the gym closed and no one had been told. One of his clients Rachel, who is now a co-founder, said why don't we set this up as a specific class. They bought treadmills at auction and found a room to use. They started experimenting with lighting and started with blue but it wasn't working so tried red — and that's basically how it's been for 24 years. 
Everyone who has set up a boutique studio were probably a Barry's client at some point

Sandy Macaskill
"People are looking for brands to be authentic and that's why I love Barry's. It's not my brand and it's not my invention; I'm a caretaker of the brand. It's very special to me and it's my job to do the best I can with it."
Barry's opened in London in 2013 after Mackaskill and his brother James met the founders in LA. Having grown tired of their careers — Macaskill was a sports journalist for The Telegraph and The New York Times while James was a tennis coach — they were looking for a new venture and opening a fitness brand seemed like the best fit. "Back then, about 12 years ago, the experience of going to the gym was going into the weight room and the often lame cardio section. It was a very solitary experience and no one did it as a sociable activity. It was often thought that if you went to the gym, you cared way too much about your appearance. No one wore sports gear on the street — it's so different to the world now. 
"The thing that went through my mind when we had to give up our jobs, sell our cars and fundraise for the gym was that I knew this was going to work. People often don't have the knowledge or motivation to workout so if you create a place which is fun to come to with a trainer telling you everything you need to know, it's going to attract so many people. It was a no-brainer."
Barry's became the new normal. Now, London's fitness scene is dominated by endless boutique studios, offering everything from Pilates to circuit training, but Mackaskill believes they pioneered the trend in the capital. "We were the first ones to really set up boutique gyms [in London] and now we've seen so many new companies grow. Everyone who has set up a boutique studio was probably a Barry's client at some point," he explains. 
"Although things have grown, in a way it feels like much of the fitness scene has gone back to 10 years ago; there's a lot of confusion because there's a lot of different [gyms] out there. But our concept is the same now as it was when Barry's opened it in 1998." 
In 10 years, Barry's has built a cult following in London, including A-listers, CEOs and fitness fanatics, while also welcoming those who are just getting into exercise. With nine studios, ranging from Queensway to The City (where David and Victoria Beckham pitched up unannounced in 2014 to try the renowned workout), the Barry's London brand is just one branch of a global company that boasts 70 gyms across 14 countries. So, does Mackasill mind that the brand is often dubbed as a cult? "Putting the darker connotations of cult aside, it's a huge badge of honour that the brand — that's essentially a workout — has such a following and sense of identity that you get people calling it a cult. That's a cool thing."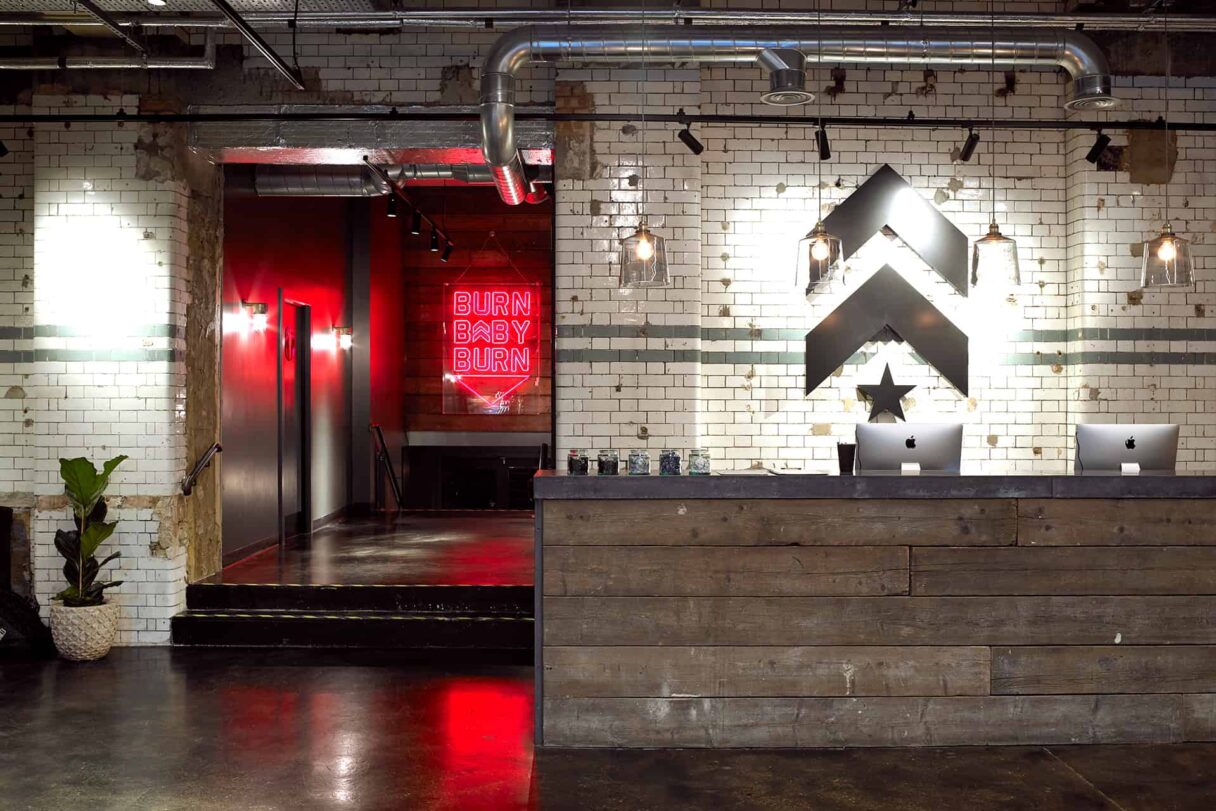 Reflecting on the past 10 years, Macaskill is proud Barry's still comes out on top when ranking London's most popular fitness studios. Having pushed through the pandemic — which he dubs "one of the most stressful times" of his life — one of his personal highlights is transforming an off-peak class into a sold-out slot. "My 9.30am at Central is always sold out with 46 people and 20 people on the waitlist. The 6.30pm in Soho is always going to sell out but I don't feel any sense of accomplishment about that." 
"But having looked at the past decade, and seeing what's come and gone on the fitness scene, we've done very well and I'm proud of that." 
Visit barrys.com
Read more: Gamified fitness: The immersive workouts bringing exercise into the 21st Century