If you're keen to book a trip to busy Bandon Dunes, here's another reason to plan ahead.
On Tuesday, the wildly popular Oregon resort announced its latest project: a 19-hole par-3 course, slated to open at an undetermined date in 2024. 
Designed by Rod Whitman, Dave Axland and Keith Cutten, the yet-to-be-named course will sit on a heaving landscape of dunes and pines between the first hole of Bandon Trails (one of the resort's 18-hole courses) and the ocean, with holes ranging in length from 60 to 160 yards, and water views from multiple tees and greens.
It will be the seventh course at a destination that is already home to five GOLF Top 100 Courses in the U.S. and a heralded par-3 course, the Preserve, a 13-hole design by Bill Coore and Ben Crenshaw.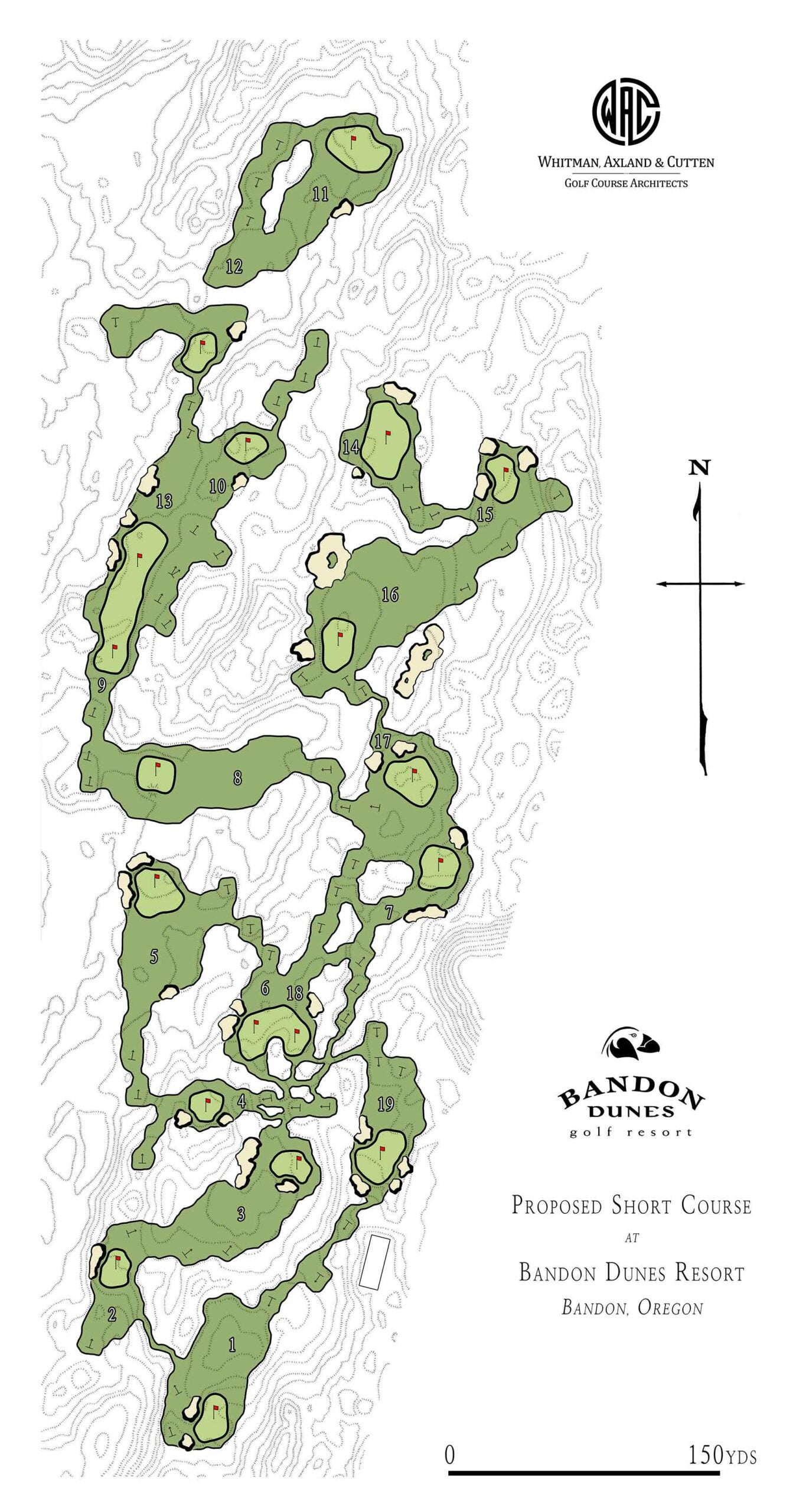 Bandon Dunes developer Mike Keiser described the site for the new course as "every bit as good if not better dunes land" than the canvas Coore and Crenshaw used for their short-course design.
"I expect it to give the Preserve a run for its money," Keiser said. 
It was the runaway success of the Preserve, which opened in 2012, that prompted Keiser and his team to start contemplating another par-3 layout at the resort. An initial routing for the course, submitted by Tom Doak, in 2015, called for a longer, tougher collection of holes. It was well received. But by the time Keiser and Co. were ready to pull the trigger on the project, their vision for the course had shifted to something closer in line with the Sand Box, a par-3 layout at Sand Valley, another Keiser-family development.
Because Doak was by then busy with other jobs, Bandon turned to Whitman, Axland and Cutten, a trusted team that had worked on a number of other projects in the Keiser portfolio, including the Nest, a par-3 course at Cabot Cape Breton, in Nova Scotia. 
Last year, in their first pass at a design for the new course, the trio came up with a 12-hole routing. But the more time Whitman, Axland and Cutten spent on the site, which features taller and more tightly clustered dunes than some other parts of the resort, the more opportunities they saw. Roughly six months ago, they expanded the routing to 18 holes. More recently still, they found a natural place for a 19th hole.
"It's such an exceptional piece of land, perfectly made for golf," Cutten said. "The holes just kept presenting themselves."
Whether there is room for still more holes at Bandon is another question. According to Keiser, "we could probably squeeze in (another par-3 course), but most of the obvious sites have been used." 
Either way, the new course hardly marks the end of the resort's ambitions. Work is also far along on what would be Bandon's sixth 18-hole course, Wild River Dunes. Designed by David McLay Kidd (architect of the resort's original course, Bandon Dunes), on land south of the city of Bandon, Wild River Dunes was green-lit by the county but is now going through another approval process following an appeal by a local environmental group.
In addition to that project, Keiser said he has had preliminary conversations with Bandon's mayor about reviving an overgrown 9-hole municipal course in the city. Keiser said he told the mayor he would rebuild that muni, with a fresh routing by Whitman, Axland and Cutten, if Wild River Dunes gets the final go ahead.
First things first, though: the new par-3 course. Like the Preserve, Keiser said, it will command a greens fee of $100, with all net proceeds going to the Wild Rivers Coast Alliance (WRCA), a grant-making arm of the resort that supports conservation and economic opportunity along the Southern Oregon coast. Under that same arrangement, the Preserve has been donating more than $800,000 a year to the WRCA.
Unlike the Preserve, the new course will have its own dedicated clubhouse, flanked by a putting green, and situated on a high point on the property with expansive coastal views.
Though a name for the course has not been chosen, Keiser said it is now down to two candidates: Sandy and Shorty. If the latter sounds familiar, that's because the resort already has a Shorty's, a free-to-play nine-hole course at the practice range that gets its share of use but sees nowhere the traffic of Bandon's other courses.
"I think we could take that name from Shorty's and give it to another course, and not many people would notice," Keiser said. 
Today's news comes at a buoyant time for Bandon Dunes, which was firmly established as a bucket-list destination prior to the pandemic and has only gotten busier in the post-Covid boom. Rooms and tee times have been booking more than a year in advance. Big-time events have been scheduled far out, too; the USGA has selected Bandon Dunes as the host site for 13 national championships through 2045.